It's time! We woke up early on Saturday, October 8th, packed our bags, got the dog ready and hit the road for Giant Recreation World to pick up our home on wheels to surprise James's family. FINALLY we get to start sharing our big news!
We arrived at GRW and got a quick tutorial on everything and then it was time to drive it off the lot! I followed James in the Jeep the whole way to Melbourne, but before we even left the dealership, we got on our phones with each other and talked the entire drive there. It was exhilarating for us, an incredibly special moment, but James admitted he wished I was sitting next to him for it – I reminded him that soon when we take it for our maiden voyage and on the road for good, I will always be sitting next to him to share those moments. He did say again that it felt like our home though and that was just an amazing feeling. It always solidifies our decision.
James was a little nervous adjusting to driving the big beast so I stayed relatively  close behind him and communicated how he was doing from my viewpoint. I really loved watching him drive it though.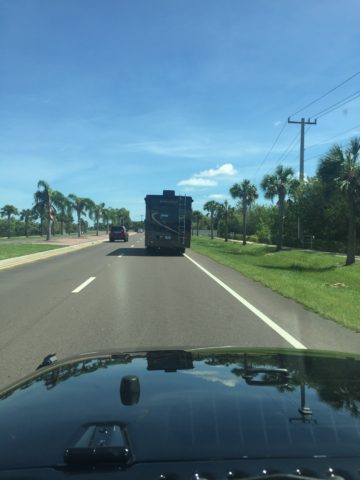 We had arrived in Melbourne and were getting closer to James' family's homes. We had a plan already mapped out that I would pull up first and get his family outside to see the new Jeep, thinking that was the only surprise, then have James roll up shortly after in the even bigger surprise. Well, the excitement got to both of us – especially James… he got lost… in a neighborhood he grew up in. It was comical.
When we first arrived, it was James' mother and grandmother (a.k.a. Gee) who were home. They were surprised and confused about the Jeep – especially since they just saw us a number of hours ago. Then James rolled up. We. Were. Floored. His Mother and Grandmother, shocked. We parked it in his Aunt's driveway and for the first time, we leveled it, pulled the slides out,  cranked up the A/C and hung out in it for awhile with them, explaining EVERYTHING. Just for the record, A/C is the most magical and valuable thing to have when you are without power, which his family was still without at the time.
Shortly after surprising them, James' sister, Jennifer, came home from work and James ran outside to sneak up on her and surprised her before she could even get out of her vehicle.
All we needed now was for Aunt Tre to come home so we could surprise her. Can you imagine five impatient people in one room, two of them beyond eager to surprise someone yet again? James' mom spent the next few hours constantly texting her, inquiring on when she planned to come home. We laughed the whole time as we went back and forth debating on once she arrived and saw the two unknown vehicles, would she go inside her home first or come straight to Gee's? With that being said, do we pop out of the RV as she approaches it to reach her front door or do we stay in Gee's house and wait for her to waltz through the door in utter confusion? Clearly there were very important decisions to be made.
In the meantime, we went to my grandparents house (a.k.a. Grandma and Grandpa) to check up on them and their home. They were more than happy to see us and there wasn't any significant damage to their home, SCORE! They were also one of the first to get their power back since Grandpa was on oxygen, thank goodness! We had a nice visit with them, and took care of some stuff around the house before returning back to James' family after awhile. We knew we had a lot more to clean up over there after Aunt Tre arrived.
We got back to Gee's and decided to wait there for Aunt Tre and Chris. It was fun for all of us to watch as she drove up with her son, Chris in tow. When she came inside to find us there, and we told her that the vehicles were ours, she hit the nail on the head on what our plans were with them! Now we could FINALLY FaceTime her daughter, Kellie and Kellie's boyfriend, Luis to show them next.
After a couple of attempts, we finally got Kellie and Luis on FaceTime. We were standing outside, the whole family with us to watch and hear their reactions. We told them we had a surprise and in pure Kellie humor, she jokingly guessed that we were pregnant, hahaha! NO.
We showed them the RV and they were shocked, excited and immediately asked us for a tour inside. It was a fun call, although we would have loved to show them in person, but soon enough!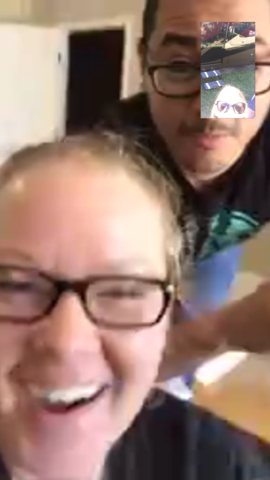 After we surprised everyone, James and I got busy with cleaning up both Gee and Aunt Tre's yards of all of the debris and broken tree limbs that Hurricane Mathew left behind. Unfortunately Aunt Tre's house had a large tree fall onto the backside of her home and it was just too big for us to do anything with ourselves, but we managed to get everything else taken care of.
We got all cleaned up and then I started setting up things in the RV, especially our bed. I had donated the bedding it came with and bought all new bedding, pillows, mattress pad, etc. It was coming along and I loved watching it turn more and more into our home.
I went with white bedding to make the bedroom feel more spacious and it worked. Eventually, I plan to recover all of the window valances and the headboard, but for now, I love where it's going!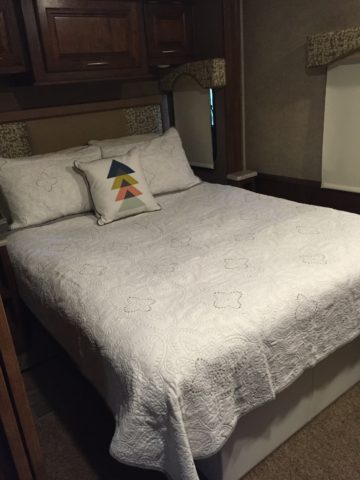 That night, we had out first sleep in our new home, parked in Aunt Tre's driveway and it was surreal. We were exhausted from both the adrenaline rush of surprising multiple people, four different times and doing yard work and all we wanted was to fall asleep in our new, cozy bed and get some rest, but we stayed up for awhile talking about it all before ultimately passing out. We had no idea at the time, but the next day was going to be even more epic than we could have ever imagined as we were planning our next surprise reveal and ended up getting a bit of a surprise of our own…
Here's a video of our day full of surprising James' family!!!…